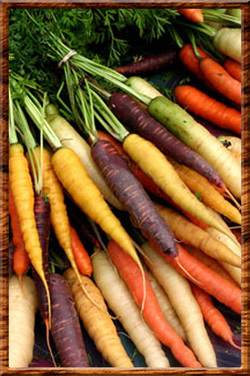 Paul fell in love with fresh pressed juice and the benefits that come along with it while working on a project in Los Angeles. A man with great taste, he was impressed by the superior quality, refreshment and nutrition he found on his daily trips to the juice stand. Back in Denver and unable to find a suitable replacement, he decided that Denver needed, and would respond well to a similar operation. His friends and neighbors, along with the Denver community, were just the type to appreciate the unmatched cleanliness, freshness and deliciousness packed into each bottle. His wife didn't think it was a bad idea either.
Lesley, a Family Nurse Practitioner quite familiar with the perilous consequences of poor nutrition, thought "this juice thing" was worth looking into. Paul pointed her to the "Gerson Method", "Fat, Sick and Nearly Dead", and the "Sexiest Vegetarian Over 50- Mimi Kirk", which prompted her to research the benefits of pressed juice. Convinced by her study into the healing powers of juicing and the overall health benefits of detoxification, she gave her support. They found a Norwalk Juicer and The Juicing Tree was planted.
What began with pulp on the cabinets and ceiling quickly became a passion for juicing and then a well lubed juicing team. Taking tremendous care in the production process, cleanliness and quality are priority number one. Today we have our certified commercial kitchen (or micro juicery- as we like to call it) which allows us to quickly and efficiently extract all the nutrition from fresh, hand selected organic ingredients, ready for your enjoyment. Whether you are looking for a tasty treat, an energizing boost, a detoxifying cleanse, a liquid meal or just simply a convenient way to achieve a healthier, more vibrant you- you have found the right place. The Juicing Tree is delighted to deliver Colorado the best juice possible. You can find our current flavor offerings here.
Thanks for stopping by,
The Juicing Tree- and the body was healthy
---